The Power Of Skilled Trades
This year, the Minneapolis Home + Remodeling Show will not only provide inspiration for home remodeling, it could inspire you to try a new career path! That's right, a trip to U.S. Bank Stadium January 24-26 could mean more than updating your home – you could make connections that could change your life.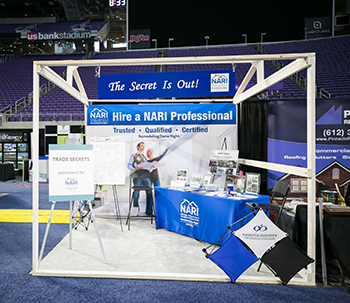 According to a recent Deloitte study, the skilled trades gap may leave an estimated 2.4 million positions unfilled through 2028. As generations of skilled trade workers retire, the country will need to fill the jobs of those plumbers, carpenters, mechanics, electricians, construction workers, roofers, and technicians.
Members of the National Association of the Remodeling Industry (NARI) of Minnesota is bringing their Try a Trade booth to the concourse level of the Minneapolis Home + Remodeling Show. They will be available to answer questions, give advice, and provide a wealth of information free of charge.
While at the booth, learn about the increasing demand for skilled tradesmen, the continued integration of technology in our skilled trades, and support for those interested in pursuing a career in a trades career.
Joining NARI this year will be Big Ideas, a Minnesota organization whose purpose is to provide introductory skilled trade classes to students ages 13 to 113. With the motto "Building Your Future, One Class at a Time," the mission of Big Ideas is to present the opportunity to discover, explore, and learn a skilled trade.
And, what better way to accomplish this than through hands-on-learning through virtual technology? Check out the augmented reality welders at the booth.
NARI's Minnesota Chapter, one of the nation's largest, is comprised of professional remodeling contractors, product manufacturers, distributors, wholesalers, suppliers, handyman services, along with trade and consumer publications. NARI-MN prides itself on being an advocate for the consumer and a voice for the remodeling industry.
Jan 24, 2020, 12:00 PM